Template Description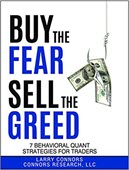 The book "Buy The Fear, Sell The Greed" by Larry Connors contains 7 behavioral quant strategies for Traders.
This template implements the rules behind the first strategy named 'RSI PowerZones'. Run this template to see Buy, Sell and Hold signals for the strategy for every symbol in your list. This strategy has been profitable on SPY 90% of the time since 1993 with 136 winning trades and 15 losing trades as of August 2018.
This template is accompanied by a simulation script called SIM_RSIPOWERZONES which allows you to backtest the strategy using the Entries and Exits and Trade Simulation tabs.
For more information about how to use the template and to see example trades, VIEW BLOG POST.
More Info
CategoryBuy The Fear Sell The Greed
Release DateAugust 2018
TagsScan
More InfoHOW TO USE
Please subscribe to the EdgeRater YouTube Channel to be notified of new helpful videos