Template Description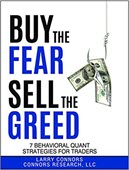 The book "Buy The Fear, Sell The Greed" by Larry Connors contains 7 behavioral quant strategies for Traders.
This template implements the rules behind the Crash strategy. Crash is about selling the greed and is a quantified/backtested strategy that has well defined rules to locate a setup bar and identify a short limit price for the next trading day. Shorts are exited according to strict rules. This template shows whenever a setup has occurred and the short limit level for the following day. It also notifies when an exit signal is fired. All open trades are identified along with current profit and loss for the trade.
This template is accompanied by a simulation script called SIM_CRASH which allows you to backtest the strategy using the Entries and Exits and Trade Simulation tabs.
For more information about how to use the template and to see example trades, VIEW BLOG POST.
More Info
CategoryBuy The Fear Sell The Greed
Release DateSeptember 2018
TagsScan
More InfoHOW TO USE
Please subscribe to the EdgeRater YouTube Channel to be notified of new helpful videos